Why this card is awesome:
Because of late bloomers. Surhoff was a Future Star in the 1987 Topps set. Here: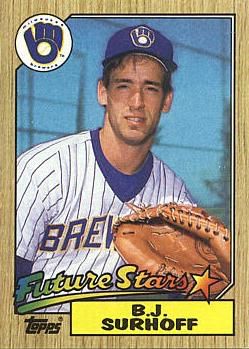 And Surhoff certainly was a future star, but it took him quite a few years to get there. Other than in 1987, he didn't slug over .400 until 1994.
Cool stat:
Surhoff is
one of 28 guys
since 1980 to amass at least 1000 runs, 1100 RBI, 150 HR, and 125 SB. He put together a pretty damn good career. Some other surprising names on that list include Dale Murphy, Ruben Sierra, and Julio Franco.